Tanghe Machinebouw nv - Waregemstraat 620 - 8540 Deerlijk - Belgium - Tel.: +32 56 71 88 71 - Fax: +32 56 72 87 06 - E-mail:
info@tanghe.com
Company profile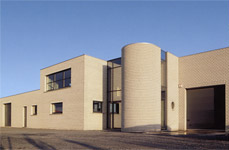 Tanghe Machinebouw s.a. is a company with over 20 years of experience in machine construction. Skill and perfection are the cornerstones of our activity. Perfectly skilled personnel and state of the art machinery are the main assets of our action.

Our know-how is you guarantee for a customized product and service

You speak in terms of automotion, prototypes? No problem! Just keep in mind that all our products are perfectly cut to size. To your size.

There is even more. We have worldwide ambitions. But that cannot be much of a problem when we produce all our master cards...

© Tanghe Mechanical Engineering - textile machines, carpets, automotion, prototypes,...